In a back-and-forth Twitter altercation between the First Son Gen. Muhoozi Kainerugaba and diaspora-based Ugandan journalist Remmy Bahati, the former used the word "ugly" while describing the latter.
Remmy Bahati had called out Gen. Muhoozi over what she termed as "objectification" and further noted that "men who lust for women on social media are perpetuating rape culture."
The Twar provoked several other netizens including Member of Parliament Hon. Daudi Kabanda who threatened to expose Bahati's dirty linen.
"I would advise that you to just keep quiet, otherwise we know a lot about you. Don't provoke us to remind you what you did during the UNAA conference in Chicago," Kabanda's tweet read.
𝐎𝐛𝐣𝐞𝐜𝐭𝐢𝐟𝐢𝐜𝐚𝐭𝐢𝐨𝐧 𝐢𝐬 𝐔𝐧𝐚𝐜𝐜𝐞𝐩𝐭𝐚𝐛𝐥𝐞! 𝐌𝐞𝐧 𝐰𝐡𝐨 𝐋𝐮𝐬𝐭 𝐟𝐨𝐫 𝐖𝐨𝐦𝐞𝐧 𝐨𝐧 𝐒𝐨𝐜𝐢𝐚𝐥 𝐌𝐞𝐝𝐢𝐚 𝐚𝐫𝐞 𝐏𝐞𝐫𝐩𝐞𝐭𝐮𝐚𝐭𝐢𝐧𝐠 𝐑𝐚𝐩𝐞 𝐂𝐮𝐥𝐭𝐮𝐫𝐞 It is appalling and disgraceful for anyone, let alone the son of the President, to use…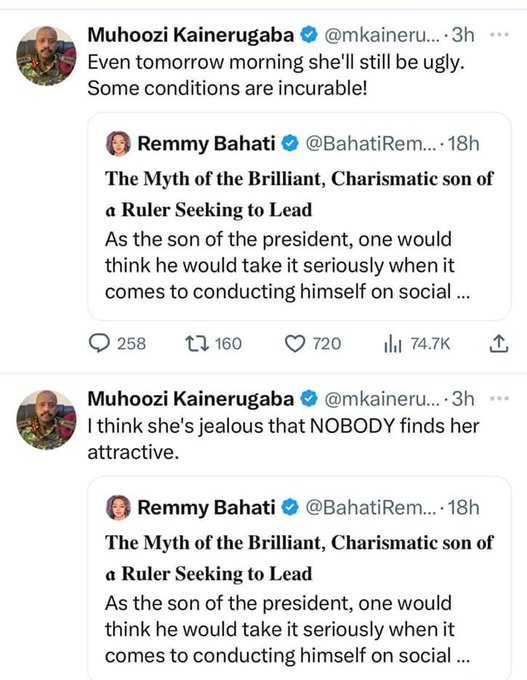 Comedian Patrick Salvado also chipped into the Twitter war as he shared his own experience about how he has severally been labeled "ugly" but has used it in his favor.
"I've been called Ugly many many times, if I ever got bothered every time someone called me ugly, oba where would I be? In my Ugliness, I've achieved and I'm doing beautiful things and I think that's what matters .. otherwise even tomorrow I'll wake up still ugly," Salavdo tweeted.
Salvado further said that Remmy is milking the situation, something that did not settle well with the former NBS TV journalist and she has since called out the comedian over his "inappropriate" comments.
Patrick Salvado, you might not know this because you are a comedian but telling someone how to react to misogyny and dehumanization is never appropriate.

Each person has the right to respond to any form of discrimination in their own way, and their reaction should be respected. And especially when that discrimination comes from someone seeking to be President of a country.

It is important to support victims and empower them to make their own decisions on how they choose to react to misogyny, whether it is by speaking out, seeking help, or taking any other action they feel is appropriate.

As a society, we need to work towards creating a safe space where all voices are heard and valued, and individuals are treated with dignity and respect, regardless of gender, race, or any other characteristic.

Remmy Bahati